Discover more from Return to Self
Remembering who you were before the world taught you who to be.
Over 1,000 subscribers
Your Weekly Oracle Reading (10.12.2020)
Consistency over urgency.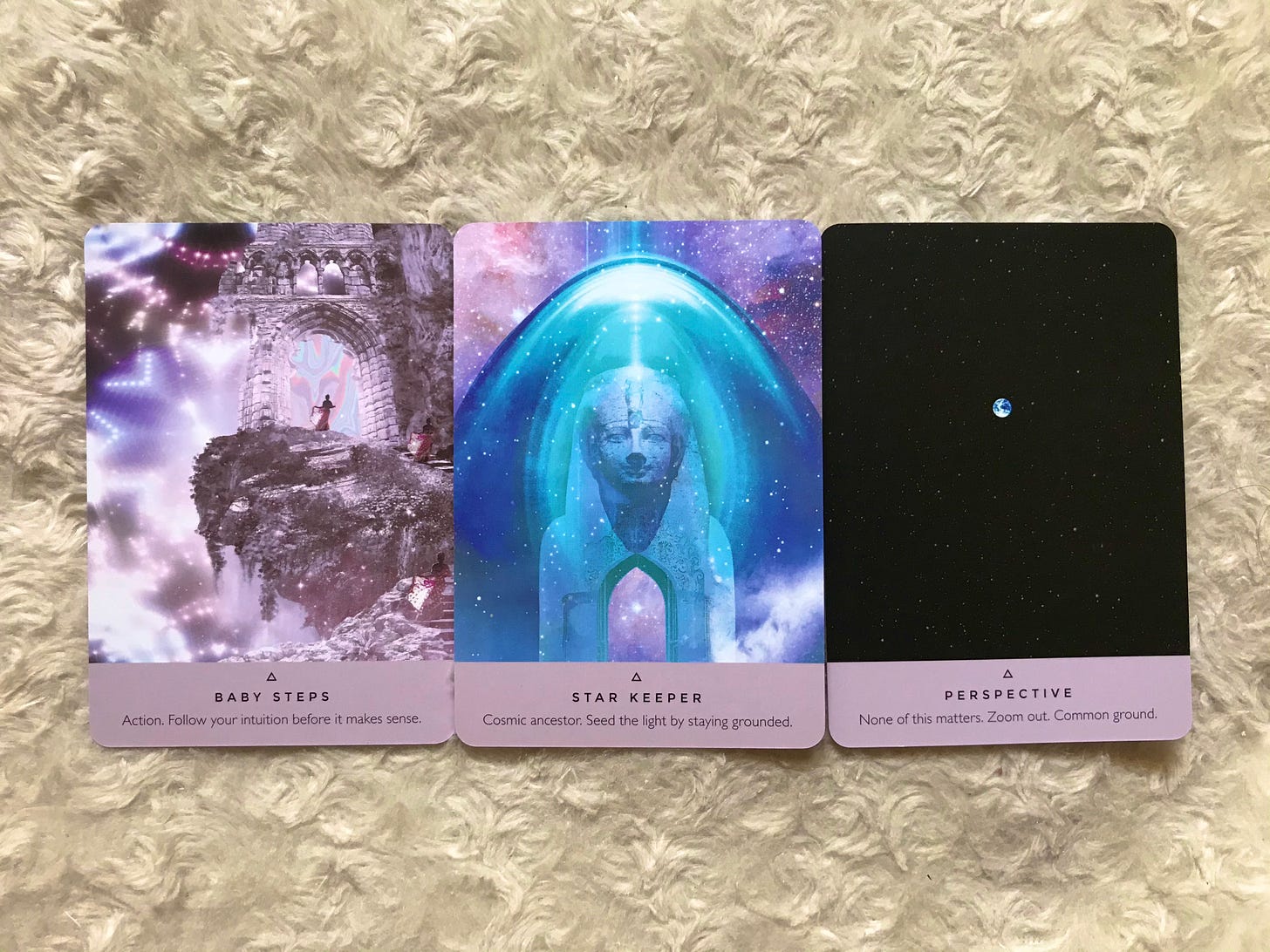 Happy Monday dear ones. As we prepare to embark on a new week, I'm sensing a lot of anxiety. A lot of us are questioning, "What's next?!" Perhaps you're running yourself in circles trying to plot and plan, yet continue to hit roadblocks no matter what you do. Take a breath. Everything is unfolding as it should. Let's take a look at the cards…
---
Baby Steps is exactly as it sounds. It's reminding us that oftentimes we tend to focus on the destination instead of the journey, and we want to hulk step our way over there. However, that's not where the magic lies. Right now, you're being asked to value consistency over urgency. It's not about how long it takes, because reaching it is inevitable. It's about how you get there. Many of us give up right before the seed sprouts. Don't let yourself become so consumed with time that you forget to show up. Just focus on heeding the soul's call each day, one small thing every single day. Follow your intuition even if it doesn't make sense, because here's the thing—sometimes it's not meant to make sense, and we have to find the peace and comfort within that. Some things cannot be intellectualized or rationalized into some pretty logical explanation (how convenient would that be!). So again, you're being asked to trust yourself, and to listen to your gut. Take these baby steps each day, and before you know it, you'll look back and see that you have traveled further than you could ever have anticipated.
Star Keeper is the beautiful reassurance that you are an ancient being who has come back to help heal the timeline that we are in, but this begins with healing yourself. Perhaps you've noticed a lot of awakening symptoms. I mean, even being interested in these readings is a sign. You're waking up, and what perfect timing, because our world needs us now more than ever. Continue to care for your heart, and call fragments of your soul back to yourself. The more you're able to ground yourself, the more you're able to help the collective. As this card tells us: You're here on a double mission—to grow as an individual and as part of a larger collective that's bringing a massive shift in frequency. Don't forget who you are.
Perspective is often the friend we forget to check in with, but what a wise old friend it is. This card is asking you to take moment to zoom out and consider the bigger picture. It's so easy to fall into the dramatics of our individual hurdles, and that's not to dismiss some of the heavy hurdles we absolutely face, but there is always more going on in the background that we're not aware of. When you can, take a moment to consider your role in the collective. Remember that Mother Earth does not need us, we need her. So how are we treating the home that we need so desperately? How are we treating the people who cross our paths? Because our actions and behaviors linger long after they're gone. Perspective reminds you that you're one piece of the puzzle, and although you may not see the full picture yet, you're important to bringing it all together. So let's make sure we're doing our best to show up in a way that helps everyone involved.
Have patience with yourself. This isn't easy work, but you're doing it. And we all thank you for it.