Discover more from Return to Self
Remembering who you were before the world taught you who to be.
Over 1,000 subscribers
Your Weekly Oracle Reading (11.02.2020)
Your heart knows more than your head.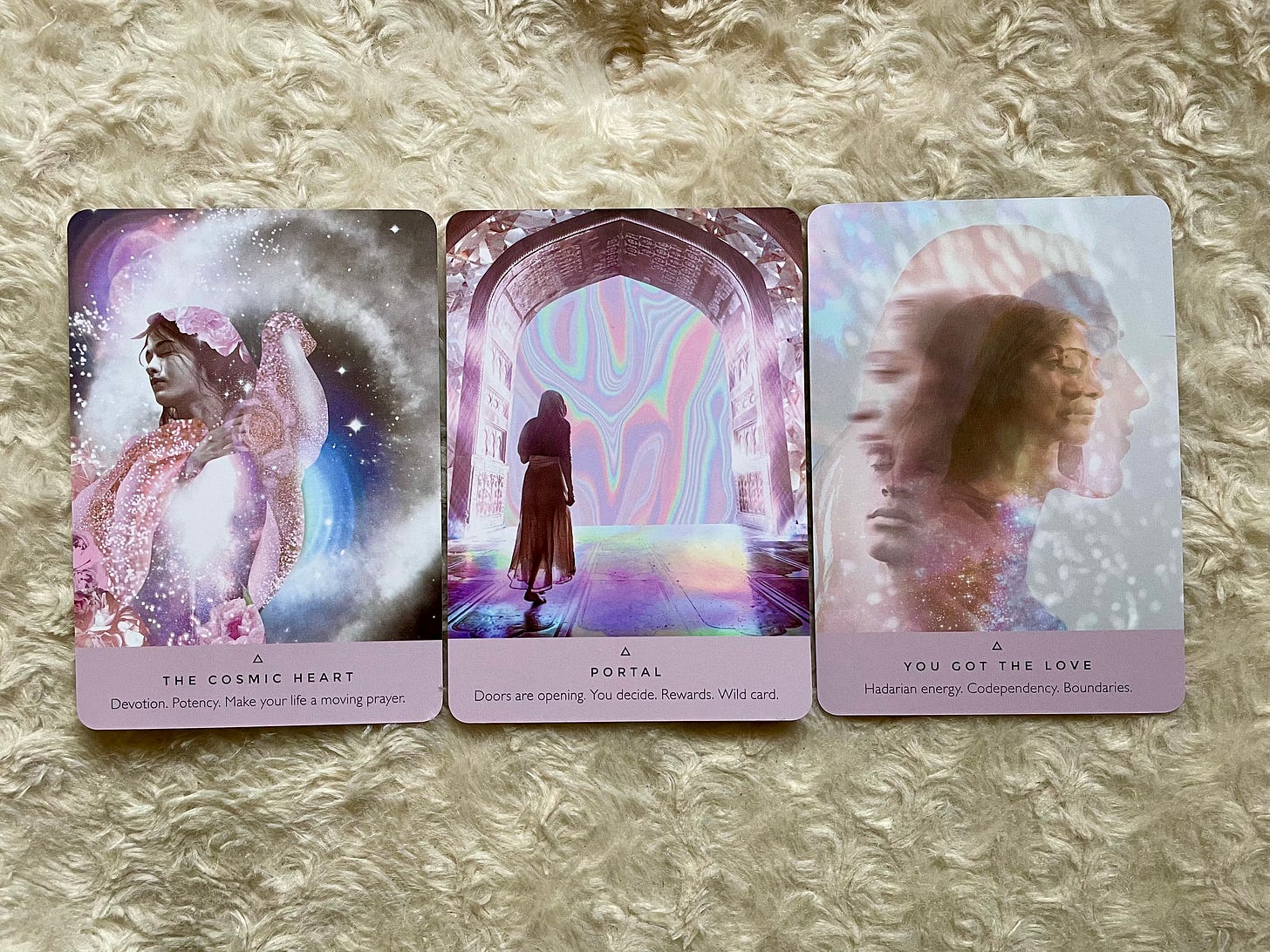 Let's start with a deep breath.
A lot of us are filled with anxiety this week as the US elections are literally around the corner. Take this moment to center yourself, and focus on this present moment as best you can.
Worry aside, the cards are filled with pleasant messages and hopeful outcomes for our individual journeys. Now is the time to manifest the future you've always wanted for yourself. Let's dive in.
The Cosmic Heart is a reminder that your heart holds the power. Many of us were taught to lead with our head, because it's logical. Our emotions were downplayed and scoffed at as irrational and unstable. However, we're remembering the power that our emotions hold. While we must always keep in mind that emotions can be fleeting, we are also reaffirming that there are messages and magic within that which we feel. Our body is our greatest tool to assessing a situation or new direction through our intuition, and our heart is the North Star of that system. Right now, devotion is key. You are planting the seeds for the life that you want to cultivate, and you must tend to those seeds each and every day. Break through the limiting beliefs that your head knows better than your heart, because your head is often what blocks you from achieving your desires. Put your head on the bench this quarter, and sub in your heart. See what plays it makes. Reacquaint yourself with it and approach your life as if it's one big, moving prayer.
Portal is a card we've seen before. Again, the Universe is telling you yes! It is here and ready to support whatever manifestations you're trying to bring to fruition, so pay attention to the messages you're putting out. If you're focusing more on what you don't want, don't be surprised if that's what you get. Focus on what you do want. Take the risks. This is a time for extreme transformation and effortless change, so make the best of it. You will reap the rewards you've worked so hard to achieve. So what experience would you like to have? What adventure do you want to be on? Ask and you shall receive.
You Got the Love is gently highlighting the areas that need some tweaking. For many of us, especially if you identify as a starseed, we are quick to dive into a deep relationship with those who feel like a soul connection. The Hadarians are believed to be beacons of pure, divine, unconditional love who see love in all people and situations. For this reason, however, it's easy to breed codependent relationships, because we are often quick to nurture and care for others before tending to our own needs. We are here to learn how to love while in a separate body. Now is a time to remember that the unconditional love we seek is available within us. It's time to focus on ourselves for a bit. Strengthen those boundaries. Tap into your own heart first and be your own lover. Allow yourself to bask in the light and energy that you give, so that you may experience the joy of being loved by you. Reassess unconscious energetic agreements in your life now that bring feelings of anxiousness or instability. Where in your life are certain relationships being used to cover up feelings of inadequacy? No more building homes out of people. No more distractions from our own pain. It's time to heal the wounds that are preventing us from experiencing the love that we deserve.
Rest, and in moments of doubt, speak to your heart.
Xo.